Nov
9
Thu
MISSISSIPPI SATURDAY NIGHT! A MUSICAL EVENING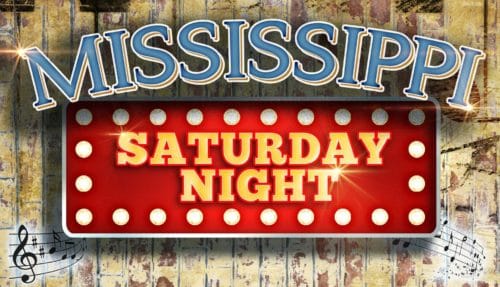 Director: Chuck White      Musical Director: Debra Atkinson     Choreographer: Jennifer Densing
Celebrating our state's 200th Birthday!  MISSISSIPPI SATURDAY NIGHT, a jukebox musical celebrating our state's legendary singers and songwriters. Join our live band and favorite coast performers as we salute our beloved, born-in-Mississippi superstars:
Jimmy Buffett * Jerry Lee Lewis * Bobby Gentry * Elvis Presley
Tammy Wynette * Conway Twitty * Faith Hill * LeAnne Rimes
and many more
Songs include Margaritaville, Great Balls of Fire,
Looking for Love in All the Wrong Places,
Stop! In the Name of Love, and This Kiss
Featuring WLOX Gulf Coast Idol winner Hadley Hill
finalists Natalie Collins and Sean Harding
and Teri Carter * Vickie Dukes * Allen Farrington * Rebecca Harding
Mary Jackson * Estic Rodriguez-Jackson * Wayne Stephens * Ruthie Wilder
TICKETS ON SALE SOON.
Feb
22
Thu
CAT ON A HOT TIN ROOF with an all star cast!

Set in the steamy Mississippi Delta, this electrifying Pulitzer Prize winning play drips in sex and cranks out family dysfunction better than a late night talk show. Center Stage burst on the Gulf Coast scene in 1975 with this theatre classic featuring Boyce Holleman as Big Daddy and Jo Love Little as Maggie the cat.
TICKETS ON SALE SOON.